The Newest Traffic Bot. The new algorithms have been used in this software therefore you will get 100% organic visitors with using your ISP!! ATB is NOT a fake/low quality traffic generator!
What is Awesome Traffic Bot ( ATB )?
ATB is 2020's newest traffic Bot that you can send thousands of pure and completely humanized visitors to your keywords on Google, DuckDuckGo, Bing, Yandex, Naver, and even to your google map page! This will increase the CTR of your keywords by performing human-like actions. Furthermore, You can even send traffic directly to your web page. In this mode, you'll be able to set referrers too. So, you can choose to send traffic from social media or big tech websites to your website. (This won't be SEO effective like Search Engine).

Let's be more specific here. ATB has 3 significant differences compared to other applications. First, it does NOT use Proxies or VPNs that easily can be recognized by Google; ATB uses your ISP for changing IP!! It means IPs are completely organic & pure and unlimited. This procedure for changing IP is developed for the first time by us! By the way, we've also implemented VPN and Proxy features to the bot, so if you want to use high-quality proxies or premium VPNs, you are free to do that! We don't limit your choice.

The second difference, ATB doesn't use "referrer" in the header of requests to make visitors look like they came from search engines. (Anyway, we also included this feature in the direct mode if anyone wants to do it this way!) There are no SEO benefits at all with this method used by other bots! On the other hand, ATB searches on the search engines (Google, Bing, DuckDuckGo, Yandex, Naver + Google Map) like a real human being. It scrolls the results, browses the result pages, finds your website in the results, then clicks on it. After entering your website, ATB does humanized actions like scrolling and visiting other web pages of your website, clicking on different parts of your website, and so on. Thanks to this, everything totally conforms with the google algorithm and it looks like an actual human visited your website. (Search Engine Mode)

We've also implemented an additional feature to send visitors directly to your website without using the search engines. (Direct Mode)

The third significant difference! We've focused on making the bot's browsers anti-detected. We believe ATB has one of the most anti-detected browsers under control! Without going any further in details, automated browsers have some leaks and inconsistencies that make them detectable by bot detection systems. We've focused on making it as anti-detected as possible. However, using this bot for destructive purposes is completely forbidden.

These were the overview of ATB's features that differentiates it from others.

ATB also has a full toolkit of IP changing methods. Literally every possible way to change the IP is included in the bot. We also implemented some innovative ways to do that! Let's start with the innovative ones.

ATB has 3 innovative and unique methods for changing/generating IP.
Starting with the first one, it's BRIDGE MODE. You must connect to the internet by LAN cable and a broadband connection to use this method. Your modem should be in the bridge mode/PPPOE for using this method. ( You can change the settings of your modem to bridge mode – if it supports it.) – Orange routers are Unsupported

The second method is 3G/4G/5G PHONE's INTERNET. You will only need an android phone and a sim card with an internet package for using this method! That's it! The bot will use your phone's internet to change the IP of your computer! The bot has an intelligent built-in tool to help you through configuring the mobile to use with your computer.

The third method is using Fritzbox routers (usually this modem gets used in Europe/Germany). We specially developed a new way for Fritzbox routers and that feature is available since 2021/02/13. if you have a fritzbox router, today is your lucky day! You don't need to put your fritzbox on PPPoE mode, etc. You can also use the frtizbox without connecting through a LAN cable.

These were the unique ways that we have developed to change the IP without needing to buy a proxy or VPN. These methods will be an excellent choice for a local SEO!

However, if you want to run the bot 24/7 on a virtual server and you don't want to use these methods, we also included VPN and Proxy methods for your use case.This also can be used for international SEO. You only need to import your proxies to the bot and use them! All types of proxies are supported.

How Does ATB work?
We've tried to explain the most crucial features of ATB in the previous section. ATB has a built-in user agent fetcher as well as screen resolutions. So, your visitors are always up-to-date. By saying that the ATB has one of the most strong anti-detected browsers, it simulates different user agents, screen resolutions, and even hardware specifications, making it hard even for well-known bot detection systems to detect it as a robot. It also uses Chrome and Firefox as core engines of browsers. By having the full toolkit of IP changing methods, you basically have hands-on many possible ways to generate visitors from different locations.
You can also use the "Advanced clicking" feature to click on a specific HTML element or type in it. This gives you the ultimate power to customize the bot for your needs.
We tried to explain how ATB works by describing its crucial functions.
There's too many fascinating features that you can find on the features on this page.

Can ATB work in 24/7?
Yes! ATB can work every day and every hour!

Can ATB be useful for SEO?
Yes, it can! Basically, ATB is developed for keyword SERP SEO. ATB has unique approaches to changing the IP, human-like actions, different user agents, and browser fingerprints. Therefore by using these excellent features, ATB can help your website SEO and increase the CTR of your keywords.

Please take a look at these screenshots.
These screenshots were added on 2020/07/13, after running the software on 2 of our customers for 3~4 months. As you can see, the visitors sent through ATB have been counted in Google webmaster and helped them in their progress.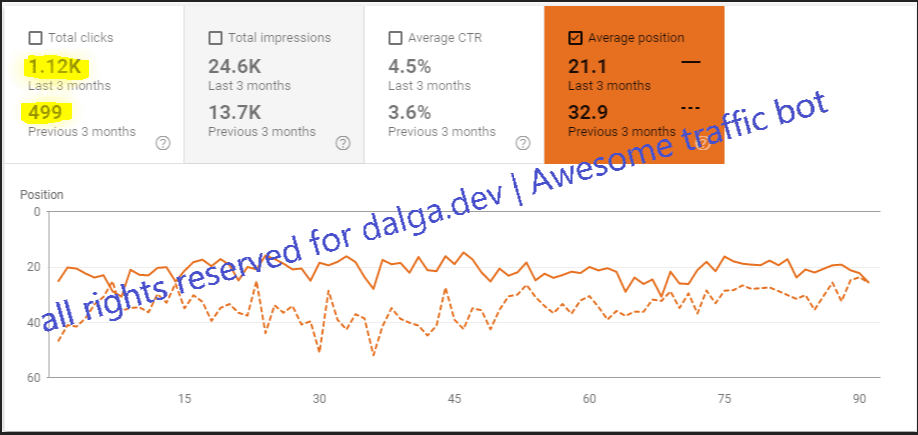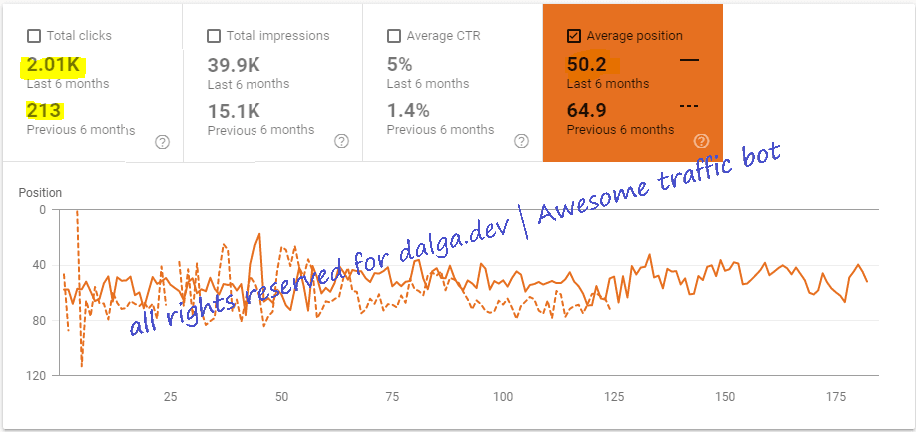 This is the results after using about 16 months (Added at 2021/07/24) (it's the second website – Avg position 64.9 – that was shown above)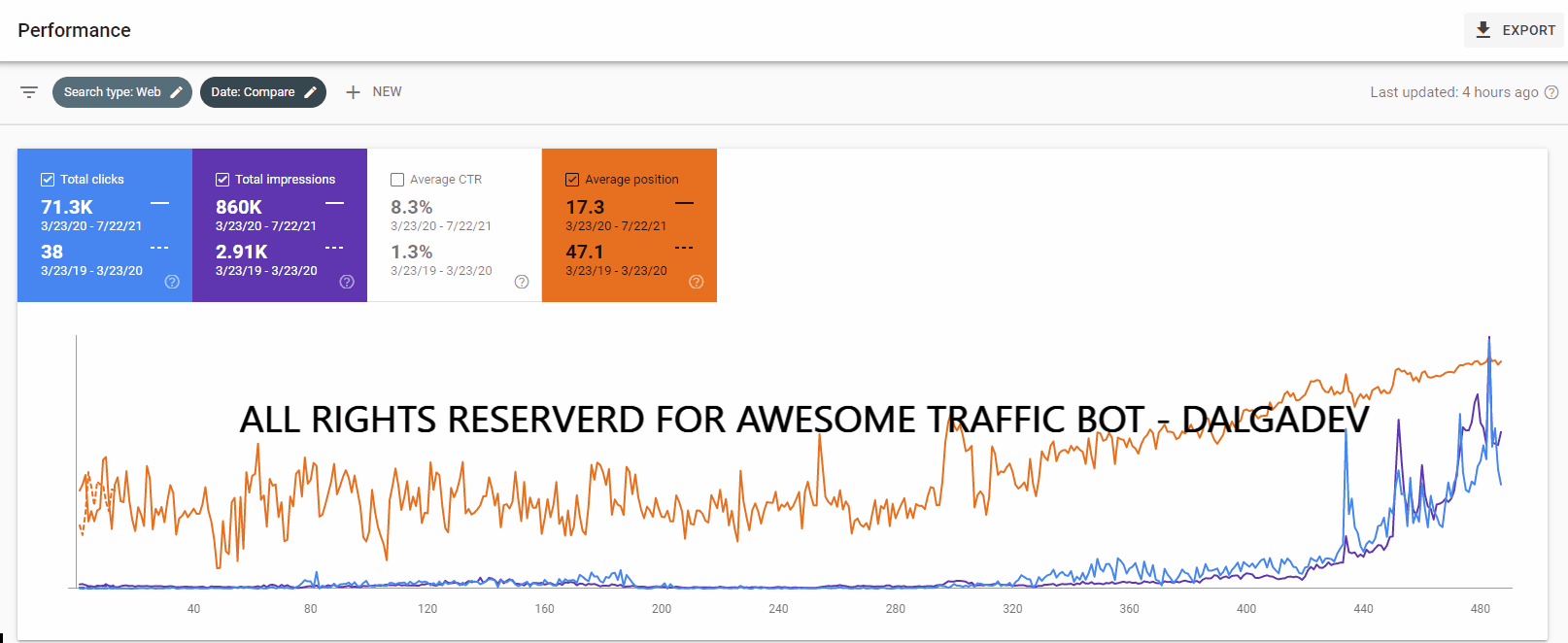 What do we mean that ATB doesn't use referrer method in sending traffic? ( technical explanation )
You probably saw some traffic bots saying the bot sends visitors to your website from Facebook, Yahoo, Google, Twitter, etc. It looks great, but there is a problem! They only use the "Referrer" method when they want to send visitors to your website. They just import the origin website URL ( such as google.com, or Facebook ) in the "Header > Referrer" of the HTTP requests. Your analytic and statistic plugins will show visitors coming from Google or social media. It looks incredible, but it is just nothing! It's only for deceiving analytical tools; there are no other advantages to using that Referrer mode. This way doesn't have any benefit for your website's SEO!

What about ATB?! ATB searches on search engines (Google, DuckDuckGo, Bing, Yandex, Naver) like an actual human with different user agents ( desktop & mobile), different screen resolutions, different browser fingerprints, etc. Then it finds your website on search result pages. After finding your keyword on search engines, it clicks on your website. As soon as it enters your website, It does human actions like scrolling, clicking, and surfing your other subpages. You can also confirm all of these activities on your screen!
I still want to use the Referrer mode for making my visitors look like they came from Social Media or other huge websites ( Facebook, Youtube, CNN, etc. ) Is there any way to do with your bot?
Yes, since version 1.5.3, you can send Referral visitors and choose any website you want to make the visitors come from. Just check the "Direct Traffic" and Select "Social Media", then you'll be able to select or enter the referrer website. However, this won't benefit your website's SEO.

Do Google analytics and Google webmaster's search console count the visitors?
Definitely! as we mentioned above, due to sending visitors and changing IP approaches used in the ATB, all visitors are being counted in Google analytics and the webmaster search console! We run the software for 25 visitors test in the demo. This is what makes our bot unique! You can't fool the google search console by sending traffic by putting an HTTP referrer, but you should click on your keyword in google for REAL!

Features:

-New procedures have been used in ATB for changing and generating an IP ( Use your internet to change the IPs: 4G/5G and PPPoE/FritzBox modes )

-We developed a new way to change IP for Fritzbox routers ( Fritzbox doesn't have a Bridge mode option, but with this feature, you can use fritz box from now on )

- If you don't want to use the unique ways to change the IP, we have also made a proxy mode for you. It supports HTTP/HTTPS/SOCKS4/SOCKS5 proxies.

-You can use premium VPNs to change the IP too! You can import VPNs to the bot and the bot will use the servers of your VPN. This feature sometimes can be a better choice than proxy mode.

-Browser fingerprints getting matched with proxies and VPN automatically. So, with using other countries proxies, fingerprints still will look totally legit!.

-IPs have different user agents ( With different operating systems and browsers ) !! you can choose the type of operating systems

-ATB also changes screen resolution in every visit. If you choose phone devices, it will use popular phone devices. if you choose desktop devices, ATB will use the most popular screen resolution.

-Send traffic/visitor to your website by search engines ( Google, DuckDuckGo, Bing, Yandex, Naver )

-Use/Import gmail accounts for sending google traffic for your website.

-Schedule Campaigns to run at a specific date/ specific day of the week and between certain hours! And even more, you can set a different number of visitors for each scheduled time!

- Choose a Specific website (Facebook, Youtube, Twitter, etc.) as a referrer for your visitors in the direct mode traffic.

-Add a wait/delay time between jobs. You can choose a range of seconds for the bot to wait before going to the next job/campaign.)

-Send traffic/visitor to your google map business page ( AND click on your website link in there for increasing CTR! )

-Send traffic/visitor to your website directly without using the search engines option

-GPS Simulation. You can set longitude and latitude for GPS location stimulation. This feature is useful for Google Maps SEO.

- Use public location names (Like New York Central Park) in GPS stimulation instead of exact Longitude and Latitude.

-ATB has the most advanced anti-detected browsers developed at the core. We've spent lots of time on making the browsers as most anti-detected as possible.

-ATB clears cache and history automatically after searching on the search engines

-You can add unlimited keywords and websites with different type of Traffic (You can add Google Map, Search Engine, Direct Traffic jobs at the same time)

-Advanced Clicking: You can add/define any HTML elements to the ATB to click or type on.

-ATB detects google search AdWords from regular results, so if you have ads running on google, the software won't wrongly click on your google search adword.

-Import and export functions. You can import keywords as a text file or you can also import/export all campaigns at once.

-Doing human actions on the website (like Scrolling, visiting other webpages of your website, clicking on the elements you specified, etc. )

-Choose the type of links (internal/external/all) for surfing while the "visiting other webpages" feature is selected.

-You can choose a number range of web pages that you want the bot visits per session.

-Ability to choose the bounce rate of visitors

-Multi-Threading with two different configurations to increase the performance and speed.

-Google Adsense risk-free ( even IPs are counted as impressions! )

- Specifically developed for keywords' SERP SEO

-Define a time range (in seconds) to visitors for browsing your website.

-Define the number of IPs that you want to send to your site or you can choose the unlimited option

-The accurate report for counting sent IPs

-Accurate log feature to report every step of the bot made as a text.

-You can export a report of campaigns as a CSV File

-You can export all of the settings and campaigns to use and import it again.

-Step-by-step instruction pdf file

-24/7 Technical Support

-You can watch how ATB works (searching, browsing the website,..).

* Please note that ATB is an assistant application in your websites' keyword SEO, and it's not the only way for improving!

* You can use ATB up to2 windows systems at the same time with a purchase code that you get. (Effective for purchases after 22 April 2022). You can monitor the activated devices and remove/replace them from DalgaDev panel.
Setup
We setup ATB for you – after preparing the requirements – without any extra charge (only for one device). Please use one of the ways to contact us to set up the software.
Customization
If you're looking for customized solutions, you can send us a message through the written ways.
Requirements:
1. Net Framework 4.5.2 or upper
2. For bridge mode method: LAN cable and the internet which you connected to it by bridge mode and a PPPoE (broadband) connection ( you need to check this out by asking your ISP/ ) – Orange routers are Unsupported – Dynamic IP needed
3.For mobile Internet method: Android phone with a sim card that has an internet data package activated.
4. Microsoft Visual C++ 2015 redistributable
5. Windows 8.1, 10
6. 2048MB RAM or upper. ( Recommended +4GB)
7. 3Cores – 2000 MgHz CPU or upper